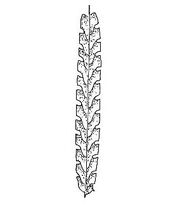 Climacograptus was a
graptolite
, an extinct colonial animal related to the primitive chordates.
It lived in the Middle and Late Ordovician Period (about 472 million to 444 million years ago). Climacograptus is characterized by a single, serrated branch suspended from a thin stem below an irregular float; its outline is distinctively angular. Several species are recognized, and the genus is useful for correlating smaller time divisions within the Ordovician.
Community content is available under
CC-BY-SA
unless otherwise noted.