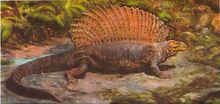 Edaphosaurus was a "pelycosaur"
synapsid
(a relative of mammals) that lived during the late Carboniferous and early Permian periods 303-265 million years ago.

Edaphosaurus was a plant eating edaphosaurid synapsid. It evolved a sail-like structure on its back indipendently from sphenacodontid synapsid Dimetrodon.
Community content is available under
CC-BY-SA
unless otherwise noted.