Not to be confused with Giganotosaurus
Gigantosaurus (meaning "giant lizard") is a sauropod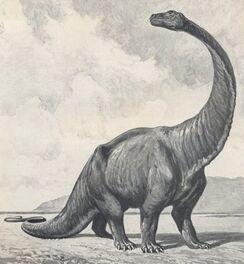 dinosaur that lived in England during the Jurassic period. The type species,
Gigantosaurus megalonyx
, was named and described by Harry Govier Seeley in 1869. The known Gigantosaurus fossils are incomplete. They include just: sacral vertebra, radius, fibula and tibia. The bones of Gigantosaurus are separately discovered.
Community content is available under
CC-BY-SA
unless otherwise noted.