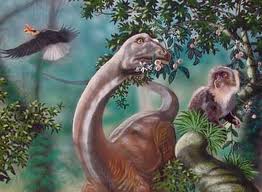 Mokèlé-mbèmbé, meaning "one who stops the flow of rivers" in the Lingala language, is the name given to a large water-dwelling cryptid found in legends and folklore of the Congo River basin.It is sometimes described as a living creature and sometimes as a spirit. It could be considered loosely analogous to the Loch Ness Monster in Western culture.
Several expeditions have been mounted in the hope of finding evidence of the Mokèlé-mbèmbé, though without success.Efforts have been covered in a number of books and by a number of television documentaries. The Mokèlé-mbèmbé and its associated folklore also appear in several works of fiction and popular culture.
Community content is available under
CC-BY-SA
unless otherwise noted.