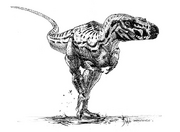 Teratophoneus 
(meaning "Monstrous Murderer") was type of tyrannosaur from Late Creteceous Utah. It's an interesting find as it was discovered in Utah, which is in the Southern USA, while other tyrannosaurs were active in the north. Along with Bistahieversor, another tyrannosaur which was from the same place and same time, shows that tyrannosaurs were active all over the US.
Community content is available under
CC-BY-SA
unless otherwise noted.